In / Out Status Board
Are you tired of running around trying to find out where someone is?
Are you frustrated when you are told "Joe" is in the conference room only to find out he has gone to lunch?
Are you constantly telling people to "please use the sign in / out board" by the receptionists desk?
If this sounds like your office then what you need is an automated sign in / sign out status board.
So stop wasting your time. Keep track of the status of co-workers, staff, telecommuters, contractors, etc. Know when someone is in or out of the office, on the phone, vacation, etc.
Assign users to different divisions or departments. Set up company wide committees, teams or private groups. Send a message to another user or all users.
Each user can update their own status when they are in conference, on the phone, out to lunch, etc. Managers or receptionists can check / update the status of users in their own division / department. Check the in / out status history of users.
Requires MySQL or Postgresql for its data storage.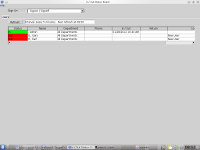 Downloads: